STUDIO DETOX PROGRAM
Celebrate transformation!
You want to live a life that matters and to reach your full potential.
But you have been unable to achieve your goals. You are making the effort and not seeing results, but you don't know what to do or who to trust. The bottom line is that if you don't have the right information and the right process to follow you will spin your wheels and never get to the life you want. You know that living in your current state isn't an option. But you are afraid that the answer to your problems is out of your reach. You know you are capable of more, but time is running out. You may even feel like a burden to your family and worse than letting yourself down, you are letting them down.
This is not what I want for your family and it is certainly not what I want for you.
My name is Dr. Lisbeth Roy, and I am the founder of a special program called Studio Detox and we specialize in helping people just like you to reclaim control of how you look and feel.
We do it using a proven method that is fast, fast, fast.
No guessing, no time-consuming research, no sifting through hours of details when you barely have the time you need now. I provide you a step-by-step roadmap that my patients have used to rapidly succeed; to lose the weight they couldn't lose before; to discover what it feels like to wake up with the energy that lasts all day and feel vibrant, healthy, and alive.
If feeling like a million bucks in just four weeks sounds impossible to you, I understand. It seems impossible when you have tried so many things before. But over the last ten years, I have helped hundreds and hundreds of patients from all over the world feel great, get off harmful medications, take back control of their lives and feel and look better than they imagined possible.
If realizing your full potential and taking back control over your life sounds good to you, I want to invite you to a free presentation where I'll pull back the curtain on the exact strategy that my most successful patients have followed to achieve their own wellness goals. They wake up with abundant energy, they enjoy a healthy weight, they think clearly, and are happier and more productive than they have ever been. All without sacrificing time and freedom.
I understand exactly how you feel. Like you, I know the overwhelming demands of a family and a busy career that never seem to allow time for you to focus on yourself and your health. I have also been through personal tragedy and lived through a parent's worst fear. I have been through the process of climbing out of the deep hole that you find yourself in.
Even with these obstacles, I have figured out how to overcome my grief and my own health challenges and to go on to have extraordinary success in my practice; I have written a book; I have taught many other physicians my secrets and I have helped thousands of others achieve their wellness goals.
You don't want to just survive. You want to be at your ideal weight, sleep like a baby, feel comfortable in your skin, and wake with abundant energy and optimism.
But time is running out.
Eventually, the symptoms of reversible imbalances you are experiencing now will become a disease that becomes more challenging to fix. Once they can name it, then doctors will have a medication for you. Side effects will need to be treated with medications and your life becomes increasingly more unmanageable, you become less and less physically and emotionally available to your family, friends, community, and much less available to yourself.
Regain control over your life, health and become a hero to your family, friends, and community.
This program will help you feel energized, think clearly, and sleep soundly.
Money invested in well care is proven to solve many of the current challenges both financial and logistic.
A DETOX IS NOT DEPRIVATION.
IN FACT, It's quite the opposite.
DETOX is flooding your body with everything it needs while avoiding many of the things that it doesn't need like alcohol, processed foods, grains, dairy, nightshades, and genetically modified foods such as corn and soy.
The for-profit commercial healthcare system is waiting to embrace you and your disease that they promise to manage.
You become a burden to yourself, your family, and the community as you join the 97% of Americans who are diagnosed with a preventable, reversible chronic disease that is costing taxpayers money and adding to the deficit.
If you are struggling with low energy, low libido, anxiety, weight gain, sluggishness, feeling bloated, or even brain fog and your doctor tells you there is "nothing wrong" with you… what can you do? It's hard because you have either tried everything and you are almost ready to give up or there is so much conflicting information that you don't know who to trust and where to start.
The truth is it is not your fault that you have tried and failed to get the help you need and deserve. The healthcare system is broken. And most of us fall victim to our busy lives and lack of practical solutions. What you need is a better way. And that is why I have leveraged all of my resources to provide you a step-by-step blueprint that gives you a proven path to get you on your way to wellness and to transform your life.
In just 4 weeks you will lose weight. regain your confidence and feel in control of your life and health again.
I lovingly refer to this program as my "sneak attack jump start". SD is the beginning of your wellness journey and the way to wellness for life.
Maybe you feel you are eating "healthy" and yet you still can't seem to gain control over your life. Regardless of whether your symptoms are mild or severe, ignoring these problems only makes it worse and it puts you at risk for heart attack, stroke, diabetes, Alzheimer's, and a whole bunch of other serious problems. Your body is telling you very loudly that there is something already wrong!
All of the time you are spending feeling sick and tired is wasted. You cannot get it back. You deserve better.

The truth is that it is not your fault! I know how you feel, but I found a way out and I can show you how.
I used to be so fatigued that every day it felt as though I was dragging myself through MUD. Everyone in my life was affected by my lack of energy. I was gaining weight. I had a hard time sleeping. I couldn't concentrate. My belly was bloated, I had no libido and I was feeling gross.
I felt as though I had failed everyone who was depending on me. I felt inferior, uncertain, hopeless, and pretty scared. How could I keep going?
It was then that I met Eula. She helped me see that if I dug deep into the science of how the body worked, I would learn how to remove toxicity and could then understand how to flood my body with what it needed to regain balance and to thrive.
It took me months of hard research and trial and error to develop what I call the Studio Detox program. This program literally saved my life, my relationship, and my practice. It helped me return to being the head of my family and the doctor my patients were counting on.
The program is a simple yet targeted step-by-step approach to getting your body working for you and not against you. It has evolved and changed over the years as we become more and more knowledgeable about how food and your environment dictate how you feel.
The program helped Jay and Betsy lose fat, increase energy, and improve their relationship after 30 years of marriage because they feel better and more in control than they ever have.
In fact, Jay has a better sex drive and erectile function, and Betsy feels sexier than ever. They hold hands like they used to and look forward to the time they have in the evenings to spend their new-found energy.
At age 67, Ken's tennis game is better than it was 20 years ago because he sleeps better, has more energy, has more muscle, and no aches and pains like he used to. He loves to come by the office to show me his "new muscles" and a slimming waistline.
Cheryl's hair is thick and healthy after years of suffering from hair loss. Her skin glows and her mood is joyful. She went to doctor after doctor looking for help. Once she started the Studio Detox Program, she saw changes in her body very quickly. Changes like improved bowel movements, stronger nails, and improved lab results. She had gotten used to being mildly constipated and did not realize how amazing she would feel to move her bowels every morning and to live without gas and discomfort. She tells me that her friends are jealous, and they want to be "just like her". They don't believe her when she tells them how easy it is to do the Studio Detox and how quickly she saw improvements in the way she looks and feels.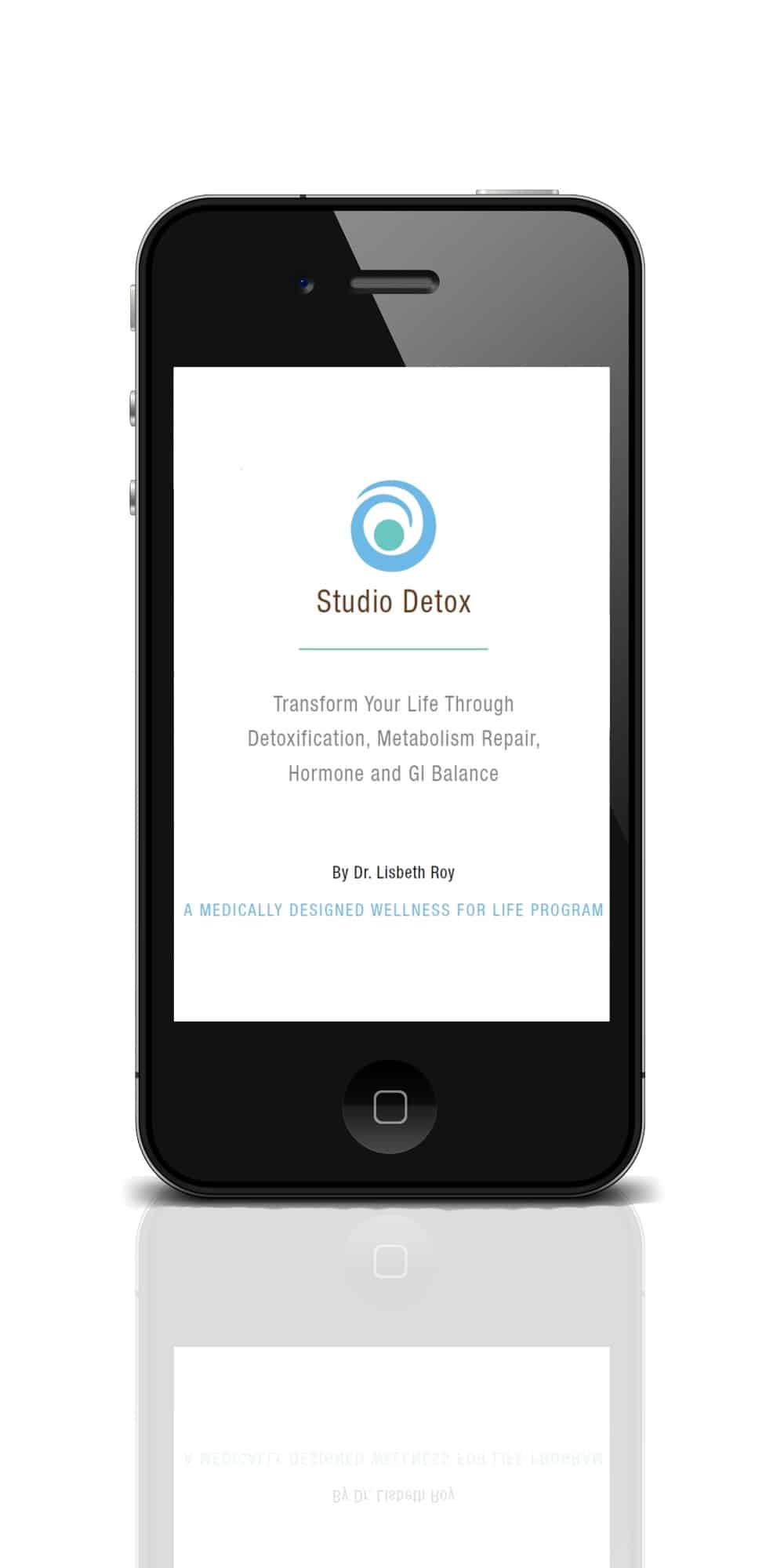 Imagine what it feels like to be fit, trim, rested, and healthy-looking. Here is what you get with your Studio Detox kit.
 Specially Formulated Professional Supplement Packets (Breakfast, Dinner, and Bedtime)

 Great tasting meal replacement smoothie powder (Taken for breakfast)

 Online Step by Step daily instruction and inspiration

 Certified Health Coaching (5 remote phone calls/visits)

 Personal Dashboard where you can communicate with the Studio team, keep track of important information if you choose to.

 Ability to synchronize your personal dashboard with your wearable device

 A Free APP for your smartphone so that you can always be in touch and connected to the Studio team
Click below and you will be downloading your handbook in the next two minutes or less.
You can not fix a problem you don't understand. Advanced diagnostics if often necessary to get at the root cause. Once the root cause is identified, the solution becomes possible.
What is Studio Detox?
Studio Detox is a combination of detoxification, elimination of irritating foods/allergens and flooding the body with ultra-nutrition; achieved by feeding the body what it needs to repair imbalances and optimize the body's functions.
What do you eat during the Studio Detox program?
Whole, fresh foods ONLY! No boxed, canned or packaged/processed foods allowed. If nature didn't make it, don't eat it! 
*Refer to the 28-Day Detox Grocery Shopping Guide
What do you NOT eat during the Studio Detox program?
ANYTHING in a box, bag or can. As a general rule, packaged foods are processed foods.
*Refer to the "Avoid" list
Who should do the Studio Detox program?
Studio Detox is right for everyone. Especially if you deal with any of the following issues: if you exercise and diet for a while and then go back to "normal" eating only to gain weight again. If you can't seem to reach your weight goal regardless of what you do. If you are not feeling well. If you have been diagnosed with high blood pressure, high cholesterol or high blood sugar. If you have been diagnosed with irritable bowel syndrome or if your doctor has told you that you have pre-diabetes.
Will I lose weight doing Studio Detox?
Many people do, but the primary goal of the Studio Detox is to eliminate foods and food groups that may be negatively impacting your health. The focus of the program is to remove foods from your diet that are most likely to cause problems and detoxify and flood the body with ultra-nutrients.
What are some benefits that I can expect from the Studio Detox program?
Studio Detox will lead you through a process to find foods that help you feel great about your body. You may also discover other benefits, like improved digestive health, reduced cholesterol, increased energy or lower blood pressure. This program helps to naturally repair your metabolism, balance hormones and restore GI health.
Do I only have to eat from the superfoods list?
No! You are not limited to the superfoods, be creative, have fun with your food and choose from all the foods listed in the 28-day grocery shopping guide.
Can I drink my OptiCleanse Plus Shake with my lunch?
No. You can choose to eat your meal OR you make drink a shake to REPLACE a meal, if needed. You make drink up to 3 shakes a day when necessary, but it is important to eat whole fresh food.
Can I have a cheat day?
Don't give yourself any excuse to cheat! Make sure your home and workspace are detox savvy. Let your friends and family know that you are striving toward a healthier lifestyle so they can support and encourage you throughout your journey. 
Welcome to a whole new way of life—total wellness from the inside out.
"Cheating" during Studio Detox will diminish the effectiveness. Cheating is not an option if you are seeking long term health and wellness. Make this commitment toward lifelong success – don't let your efforts go to waste. 
Do I have to exercise?
Yes. Exercise is essential to stimulate and repair your metabolism, while increasing lung and heart capacity for improved wellness and longevity. More exercise is not better. You may be training your body to store fat for your workouts! This program will likely save you time and money. 
Are organically grown foods really that important to buy? They are expensive.
Minimizing exposure to pesticides, insecticides, herbicides, and GMOs is the reason to buy organically grown food, especially when it comes to animal-based foods. They may be more expensive; however, the health effects from these toxins can be far more costly. Buy foods in season and from local farmers to keep the costs down. Making purchase decisions according to the annual "Dirty Dozen" and "Clean 15" from the Environmental Working Group (www. ewg.org) can help people make purchases more efficiently.
What do I do if I become constipated?
If you are consuming enough water on the program, your stools should remain soft and you should not struggle with regularity. However, if you experience constipation, magnesium citrate is safe to use to relieve this condition while on the program.
What are some of the hardest parts of doing Studio Detox?
You might experience mood swings, energy fluctuations, and intense cravings in the first few weeks. You may experience "carb flu" – you will feel sluggish and drained while your body tries to figure out how to perform without sugar. If you do experience these symptoms, it is due to a withdrawal of toxic foods and it will pass.
What can I take if I have a headache?
Taking over the counter medications formulated to address aches and pains will not impact your success on the program. Make sure you are drinking enough water. Dehydration can cause hunger and headaches.
Do I need assistance from my primary doctor?
If you are on prescription medications, it is strongly recommended that you maintain good communication with your primary care physician. The doses of your medication often need to be adjusted as you experience the benefits of the detox.
What are some tips to help me get through Studio Detox?
Make sure your home and workspace are "program ready." Clear your pantry of any junk, processed food or anything not listed on your grocery shopping guide.

Don't focus on calories. Eating enough and at the right time is the most important aspect.

Inform friends and family you are striving toward a healthier lifestyle so they can support and encourage you throughout your journey.

Eat enough to be satiated. It's better to eat too much good food than to get ravenously hungry from deprivation and then binge on off-program foods.

Blend raw almonds and flax seeds together to put on a salad. This adds fiber, flavor, texture and lots of good fats necessary for burning the fat stored in your body.

Meal prep. Each week, plan your meals and have your groceries and meals ready to "grab and go" at the beginning of each week. This will ensure you avoid excuses to cheat.
Why can't I have eggs?
Eggs are not allowed on the program because they are considered one of the top 5 food allergens.
Do you have to walk for 30 minutes every day in addition to the prescribed HIIT training?
Yes. In addition to HIIT, it is recommended and encouraged to walk 30 minutes every day.
If I already have a workout regimen, do I need to decrease my workouts to 2-4 days a week, 20 minutes a day?
No, however HIIT exercising is much more effective for muscle building and fat burning.
Why can't I have Splenda, Equal, Sweet 'n' Low or similar sweeteners on the program?
Part of the success of the program and your journey toward long term health involves eliminating processed foods and artificial ingredients. Artificial sweeteners are a common contributor to a sluggish metabolism.
SweetLeaf stevia is the purest of the stevia sweeteners. Truvia, Purvia and similar stevia products add other unnatural ingredients such as erythritol or dextrose to their formulation. SweetLeaf stevia is the only recommended sweetener on the program. Eating an apple or having a handful of fresh blueberries can help to quell sugar cravings.
What happens if I miss a dose of MedPax?
If you miss a dose of MedPax and it's within the same day, take the missed dose with your next meal. If you realized you missed a dose from the previous day, do not double up.
How can this plan become even more personalized?
Detoxification requires energy. Calories are needed to fuel the pathways to move toxins through the system. Therefore, this detox is not limited in calories. However, a specific calorie level may be prescribed if there are other aspects that are being addressed, such as blood sugar concerns, guided weight loss, or an improved body composition. Provided in this program is a formula to calculate your Basil Metabolic Rate (BMR), along with specific food guides for during the 28-day detox and after the detox. 
Don't Know Where to Start?
The Studio Team is here to serve you.